Can Special ED Rings Treat Impotence?
No need to panic, if the prescribed PDE5 inhibitors failed in improving erections or led to many life-threatening side effects. Luckily, there's another way to go. And it's called a constriction (ED/cock) ring. It is elastic and designed to help males of different age achieve and maintain erections.
If you know an erection mechanism, you'll find it easier to understand how the ring works: when a male is sexually aroused, the penis is filled with blood. The sufficient flow of blood allows achieving an erection. But when a male finds it hard to maintain it on his own, a constriction ring will do that for him.
What Is an ED Ring?
In scientific circles an ED ring is also called a venous constriction band/ring, erection ring, penile ring, cock ring, constrictive penile band or tension ring. The device can be used either by itself or along with other therapies and a penis pump. The choice normally depends on the severity of erectile dysfunction, which is why it differs from male to male. What is more interesting is that the ring has both the recreational and medical uses.
Types of Impotence Rings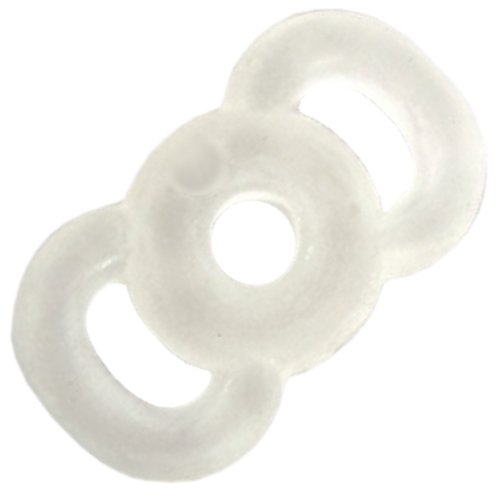 The rings usually come in two different strengths – regular and firm. The shapes and sizes are more versatile. Many different companies produce rings of their own, so making a choice is getting harder each year.
Some males give way to much cheaper versions – the cock rings. They are offered on websites and at shops that sell sex paraphernalia.
Different manufacturers use very different materials, which is why one size from one manufacturer differs from the same size and tension of others. It is normally manufactured from the material that is stretchy and flexible: plastic, rubber or silicone. Some brands produce rings with special handles that make the process of putting on and taking off easier.
Special attention must be paid to adjustable rings and those that come of various sizes. Besides, there are models with accessories for vibration: they bring pleasure both to a partner and a wearer. Today there are no standard sizes. When it comes to a large band from one brand, it will different from a large band offered by another manufacturer.
It is hard for a male to decide what type or size to start with. In case you have problems with that too, give way to a medium-sized tension band. It will allow you to decide whether the medium size is too small or large for you. Here are several tension band holes' diameters that will give the guideline:
Small: 9.525-12.70 mm OR 3/8 – 1/2 inches;
Large: 19.05-22.23 mm OR 3/4 – 7/8 inches;
Medium: 12.70-19.05 mm OR 1/2 – 3/4 inches.
In case you have good finger dexterity, choose a small tension ring. In case there are difficulties when manipulating really small things, pick a larger ring. Lately there have appeared so-called anatomically designed bands. They don't offer a standard circle design, but are able to fit the penis shape.
How Do Rings Work?
After choosing the ring, place it around the base of your penis. It will allow slowing down the blood flow back from the penis. If the blood remains, the erection remains, too. As the materials of most designs are flexible, placing them is easier. If you pick a metal ring, you'll need to work very hard.
Be cautious with rings that have two parts:
Circle to fit around the penis;
Circle to constrict the testicles.
Such designs help the erection last much longer during the intercourse. Any designs will prevent the flow of blood back during an erection. They are helpful even when a male can achieve the so-called partial erection or even a full one, yet finds it too hard to maintain it.
As it was mentioned before, the rings can be used along with pumps or even erectile dysfunction vacuum devices that pool the blood in the male's penis creating a vacuum. If you need both devices, look for places where rings are sold together with vacuums and pumps.
ED Rings' Side Effects
In very rare cases such devices lead to adverse reactions and even trigger pain. Some males report severe bruising or even scarring on the penis. Besides, a ring made from non-flexible material affects ejaculation and makes it too painful and hard to ejaculate. For those partners, who're trying to conceive, it becomes a real problem.
Never keep the device longer than 30 minutes on. Why not? It can lead to a serious penis damage, skin breaking and formation of ulcers. Before buying the ring, make sure you're not allergic to the material that it's made of.
Refuse from using only rings during long periods of time. When the use is prolonged, the device damages the penile nerves and creates the skin tissue damage. You can avoid such complications, if you wait until the erection is gone and then take the ring off.
Warnings and Precautions
If you suffer from any kind of blood-clotting disorders as well as blood-related issues (sickle cell anemia, for example), refuse from the use of impotence rings;
The same goes to males on blood thinning meds;
In case irritation starts developing, don't use the ring;
Never sleep with a ring on because it affects the blood flow.
Your orgasm may be weaker with a ring on. However, most males report benefits rather than drawbacks. Choose the right ring and get back to a normal sexual life, if no pills are helpful.